The Teaching Center at the Highlands offers various lesson rates for private sessions and small groups. This golf practice facility is the ideal place to work on your game all year round. It is a comfortable non-intimidating learning environment where people feel at home whether a beginner or a seasoned golfer. Gretchen Scheuermann, an LPGA Class A Teaching Professional, is the Director of Instruction at the Highlands Golf Park. She has numerous years of experience teaching men, women and children of all skill levels. So, for those who have always wanted to learn about golf, Gretchen offers several classes that can help you get started; and, for those who already love the game, Gretchen can help you improve your play with lessons at the Highlands or on a local course.
Interested in signing up for lessons or instruction?
Online Scheduling System – Coming Soon!!
To schedule something with Gretchen, please call the pro shop at 434-985-2765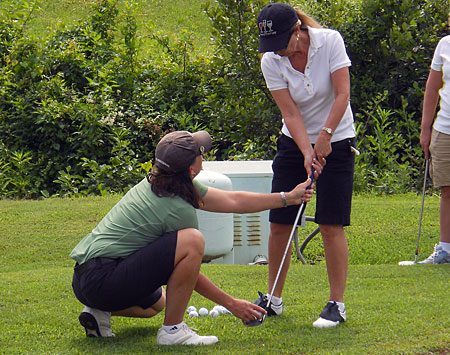 Private Lessons
These are a one-on-one experience between the student and professional.  Instruction can be on the fundamentals of the full swing and short game or whatever area of you game needs improvement. Instruction is tailored to the student's needs. Lesson prices include the fee for range balls and any use of clubs.
Three Individual 1/2 Hour Lessons
$110.00
Three Individual 1 Hour Lessons
$195.00
Six Individual 1/2 Hour Lessons
$220.00
Six Individual 1 Hour Lessons
$380.00
Group Lessons
Lessons for multiple golfers who want to take a class at the same time with the Golf Professional.  You may organize a group lesson with your friends, co-workers or family members – up to 4 participants is best.  All lessons are one hour in length. Lesson prices include the fee for range balls and any use of clubs.
Series of group lessons are available. We can also design a custom golf schools for your group that can focus on any particular part of the game. Price and time structured accordingly.
Group Lesson
Hourly Rate + $15 per person
The Ladies' Beginner Classes are for women who are new to the game of golf. Participants do not have to have any prior knowledge about the golf game. It is not necessary to have your own clubs. Instruction is done in a fun & relaxed atmosphere. Each school will have a small class ratio of 6:1. Classes will cover various topics including: putting, chipping, short & long irons, fairway metals, driver, rules & etiquette. And, during one of the classes, the group will meet at a local golf course to enjoy some on-course experience. Enrollment is limited – so be sure to register early!
Gretchen will be offering various pop-up clinics throughout the season – probably once a month starting in April.  Days and times will vary as well.  The classes will be on different topics (full swing, driver, sand, short game, etc) – you'll be able to choose/sign up for whatever interests you. Information will be posted here as well as on our Facebook page. Enrollment is limited – so, be sure to register early!
New Golfer Package
Are you a new golfer or feel like you need a more structured instruction for your game?  The New Golfer Package is designed to be a perfect mix of individual instruction and on course experience.  The package can be structured to best meet your needs
New Golfer Package:  $299
4 – 60 min private lessons
On course experience for 3-4 holes
Game Improvement Package
Designed for those golfers who have some knowledge of the game and wish to get to the next level.  This program will help you meet specific goals through a coaching and playing program.
Game Improvement:  $399
3 – 30 minute lessons
3 – 60 minute lessons
1 – 4 hole playing lesson
1 – 9 hole playing lesson
On Course Instruction Package
Gretchen can be on the go and join you for a 9-hole outing at the course.  Instruction will cover:
Pre-shot routine
Course management
Shot selection & distance control
Short game execution
Scoring & overall strategy
Contact Gretchen for details and pricing at 434-985-2765.
Stay Up To Date With The Latest Updates and Event Info