Improve your golf game through exceptional golf instruction at the The Learning Center at Highlands Golf Park. Our method focuses on personalized professional golf instruction that increases knowledge, confidence, and greater consistency in your golf game.  We will improve your golf game through awareness of your swing and the cause and effects of your body's actions during that swing as you hit the golf ball.
Golf consists of five primary skills: shots from a tee, full shots from the ground, pitching (or 3/4 shots designed for distance control), chipping (short shots around the green the require less than a full swing), putting (1 club preferably "the putter") and course strategy or gamesmanship.  The Learning Center at the Highlands offers professional golf instruction in both private and group sessions, we hold pop-up golf clinics throughout the year as well as various golf schools.
Gretchen Scheuermann, an LPGA Class A Teaching Professional, is the Director of Instruction at the Highlands Golf Park. She has over two decades of experience teaching men, women and children of all skill levels. Beginner golfers will learn the fundamentals and develop solid skills; and seasoned golfers will improve their existing skills and hone them.
Scroll Down to see information about 2023 Ladies Schools and Clinics
Interested in signing up for lessons or instruction?
See Lesson options & rates below
Online Scheduling System – Coming Soon!!
To schedule something with Gretchen, please call the pro shop at 434-985-2765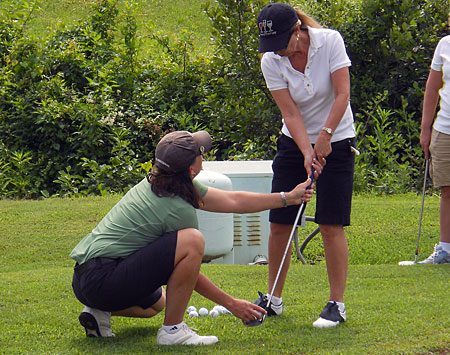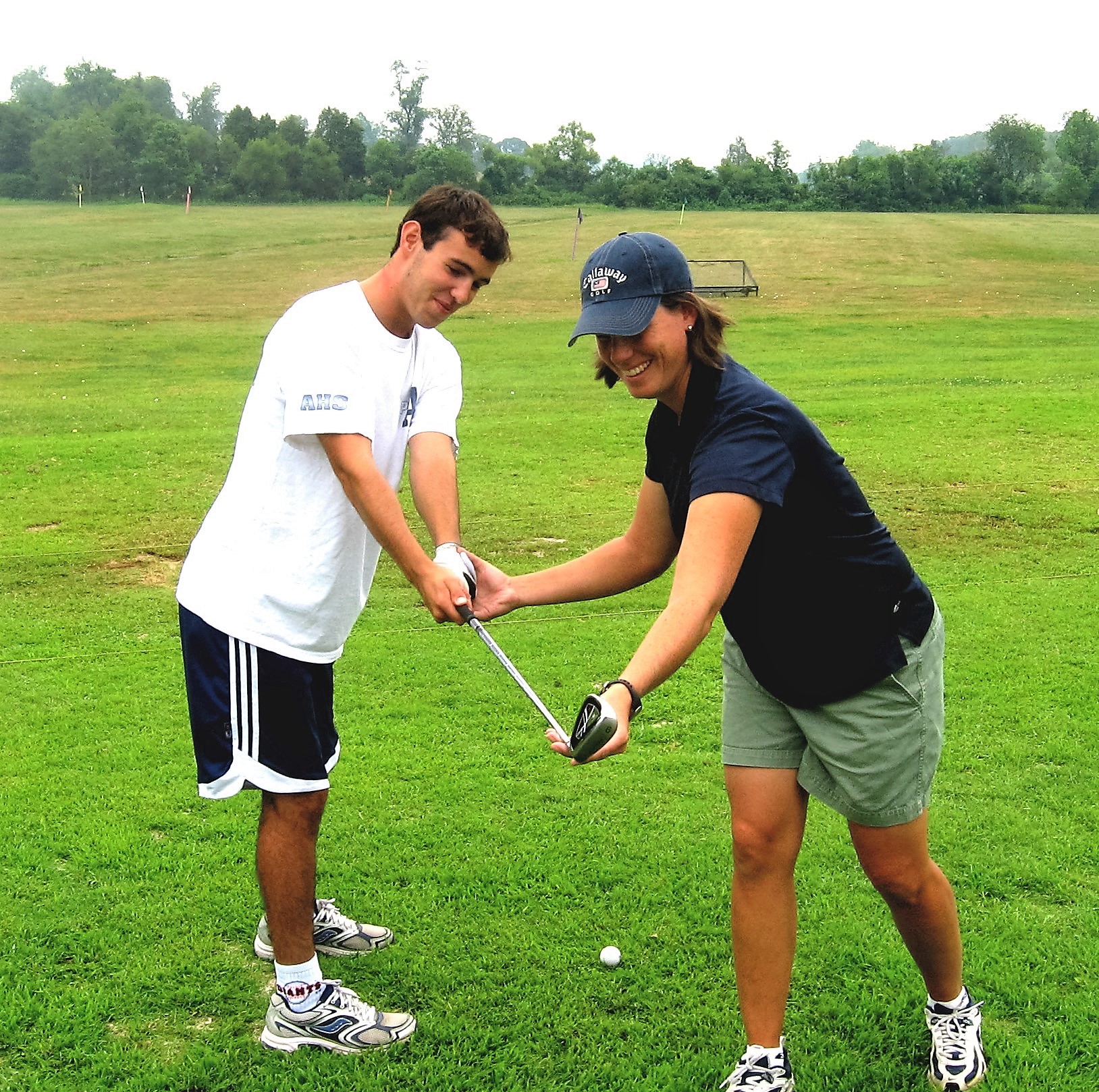 Private Lessons
A one-on-one experience that focuses on whatever area of golf you feel needs improvement. Instruction is tailored to the student's needs. Lesson prices include the fee for range balls and any use of clubs.
3 - 1/2 Hour Lessons
$140.00
3 - 1 Hour Lessons
$260.00
6 - 1 Hour Lessons
$510.00
Group Lessons
Organize a group lesson with your friends, co-workers, or family members – up to four participants works best. Group lessons can be tailored to the individual's or group's needs and can have as many or as few sessions as the group wants.
2 Adults (for 1 Hour Lesson)
$110 total
3 Adults (for 1 Hour Lesson)
$130 total
4 Adults (for 1 Hour Lesson)
$150 total

LADIES BEGINNER GOLF SCHOOL – October 2023
Beginner class for women who are new to the game of golf. Instruction is done in a fun and relaxed atmosphere, and we can provide the clubs.  There will be no more than 6 students to an instructor and the classes will cover every aspect of golf needed to develop your game.  During some of the school, the  group will meet at a local golf course to enjoy some on-course experience
New Format – Weekend School (Oct. 6th-9th)
 Oct. 6th:  Friday (5:30-7:30pm) @ Highlands Golf
Oct. 7th:  Saturday (3:30-6:30pm) @ Highlands Golf
Oct. 8th:  Sunday (3:30-6:30pm) @ Local Golf Course
Oct. 9th:  Monday (5:30-7:30pm) @ Highlands Golf
10 Hours of Instruction
$379.00
Limited Spots Available. Please Register Here.
Registration is NOT COMPLETE until payment has been made.
Please CLICK HERE to process payment for the ladies' school.

LADIES INTERMEDIATE GOLF SCHOOL – TBA 2023
Beginner class for women who have some golf experience.  We will work on the next level of golf including specialty shots, uneven lies, sand, rough and more!!  As always, instruction is done in a fun and relaxed atmosphere and there will be no more than 6 students to an instructor
Stay tuned for Details.
ADULT GOLF CLINICS
All Adult Golf Clinic Schedules and Details will be published soon.
Stay tuned for details.
Additional Instruction Packages
New Golfer Package
Are you a new golfer or feel like you need a more structured instruction for your game?  The New Golfer Package is designed to be a perfect mix of individual instruction and on course experience.  The package can be structured to best meet your needs
New Golfer Package = $449.00
5 – 45 minute private lessons
On course experience for (3 holes)
Game Improvement Package
Designed for those golfers who have some knowledge of the game and wish to get to the next level.  This program will help you meet specific goals through a coaching and playing program.
Game Improvement = $499.00
5 – 45 minute private lessons
1 – on course playing lesson (2 hours)
Playing Lesson – On Course Instruction Package
Gretchen can be on the go and join you for a 9-hole outing at the course.  Instruction will cover:
Pre-shot routine
Course management
Shot selection & distance control
Short game execution
Scoring & overall strategy
Stay Up To Date With The Latest Updates and Event Info