Charlottesville's Premier Golf Practice and Learning Center
Whether you're a seasoned golfer looking to perfect your form, an amatuer golfer wanting to improve your skills, or a beginner golfer with a yearn to learn; the Highlands Golf Park is the perfect place to do it.  You'll be surrounded by rolling green hills and quiet nature and our driving range will allow you to practice any shot in almost any weather condition.  The Highlands Golf Park Driving Range offers:
Full lighting
44 grass & mat tee stations (both covered and open air), offering both a Bermuda Grass section and a Rye/Bluegrass section; and a diverse selection of artifical mat surfaces including fine Sam Snead Mats, soft Wittek surfaces, and many more
A Dave Pelz endorsed putting green
A short game section including areas to practice your pitch, chip, and bunker shots
All weather hitting area, including sheltered hitting areas equipped with heaters to warm the tee stations
Greenside and fairway bunkers, as well as uneven lie mounds to practice your uphill, downhill, and sidehill lies, bunker shots, and specialty shots
A quality teaching center with a highly-rated, experienced LPGA Class A Teaching Professional
Pirate Pete's Mini Golf course
Distance wedges, pitching, chipping, sand play and putting represent 65% of your shots in a golf game and 80% of your handicap.  Practicing them outside of a full game will help you hone your skills and save you the time you may not have to play a full round of golf.  In addition to practice, Highlands Golf Club's driving range offers you the opportunity for recreation, fun, exercise, stress relief and the sheer pleasure that swinging a club and driving a golf ball into the clear blue sky can give you.
Located 20 minutes north of Charlottesville (1 mile north from the Lowes and Wal-Mart Shopping Center in Ruckersville), we are an easy drive from anywhere! And, don't forget to bring the kids! We offer many activities for children – making this a fun place for everyone!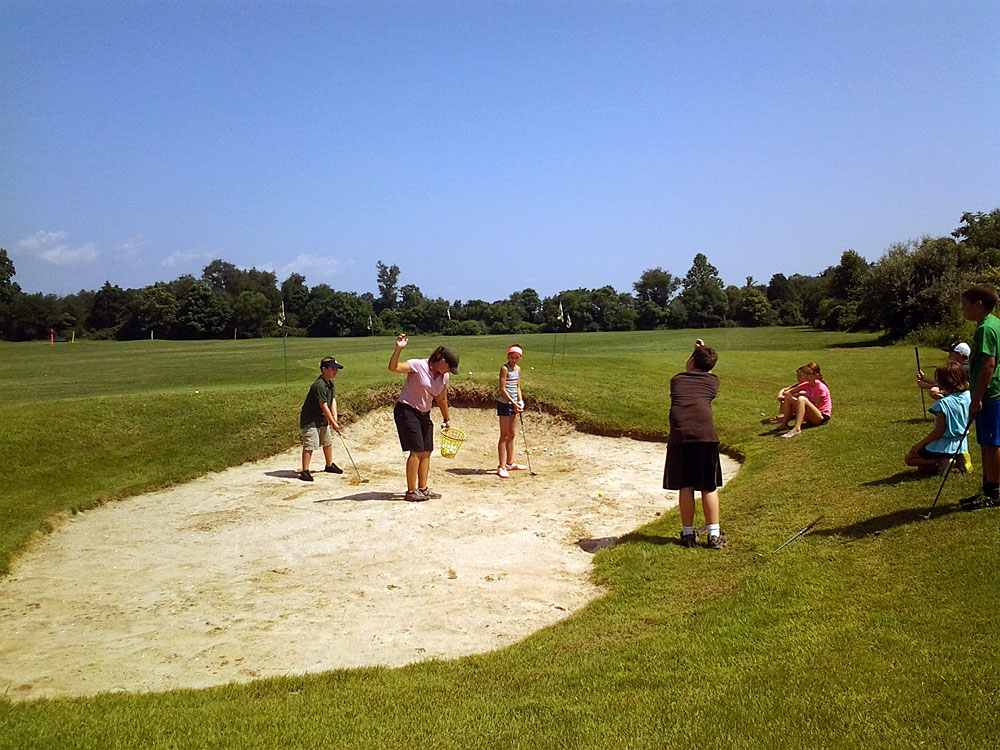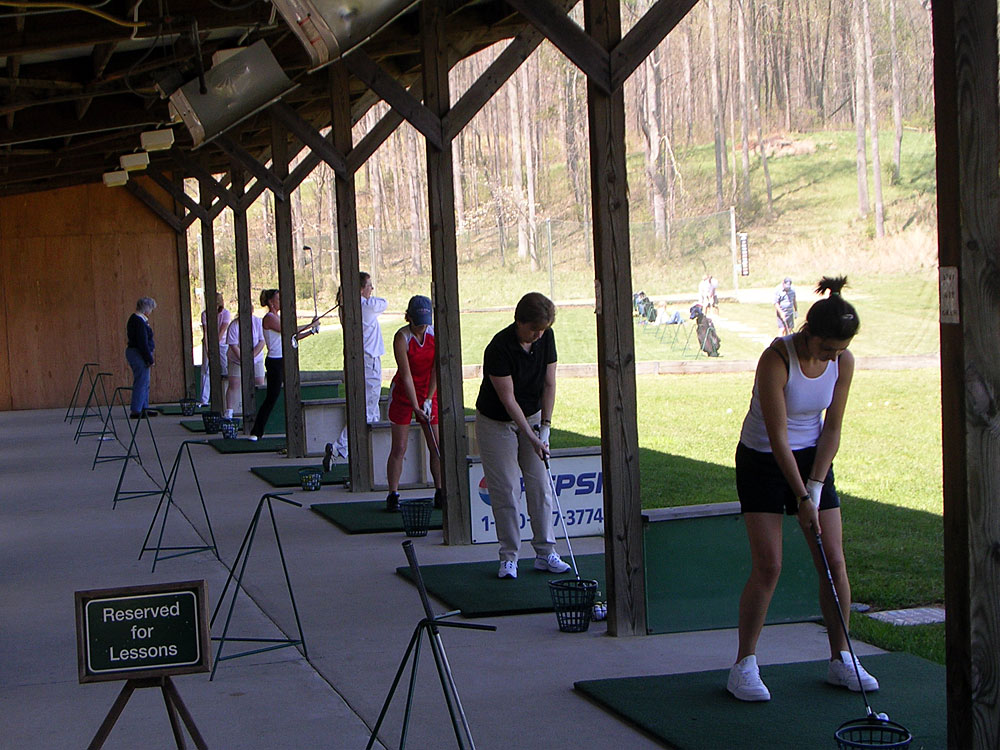 Grass & Mat Tee Stations
The practice range at the Highlands has 44 hitting stations. The grass areas include both a Bermuda Grass section and a Rye/Blue Grass section. The other hitting areas consist of a variety of artificial mats. The Highlands maintains a diverse selection of hitting surfaces including fine Sam Snead Mats, soft Wittek surfaces and more. This allows customers to choose the one they like best.
All Weather Hitting Areas
The driving range at the Highlands has a sheltered hitting area equipped with heaters to warm the tee stations. This is great for use during inclement weather and the cold winter months. You'll feel like you're hitting in an indoor facility yet have the advantage of seeing your total outside ball flight!
Putting Practice Areas
With a Dave Pelz endorsed practice putting green, there's no excuse. The Highlands has a very nice putting green where one can really groove a putting stroke. The quality short game area allows for chipping and pitching practice – from high lob shots to low bump and runs. And, the greenside bunker lets one practice blast shots out of the sand to various target flags.
Specialty Golf Shots
Specialty golf shots count for almost 80% of a round of golf. So, along with practicing long shots, you may want to work on this aspect of your game. Take advantage of the greenside & fairway bunkers as well as some uneven lie mounds (for uphill, downhill and sidehill lies).
| Range Balls | Price |
| --- | --- |
| Regular Bucket - 34 Balls | $7.00 |
| Large Bucket - 68 Balls | $13.00 |
| Super Bucket - 102 Balls | $19.00 |
| Combo Specials | Price |
| --- | --- |
| ADULT - Large Bucket of Balls & Round of Mini Golf | $20.00 |
| YOUTH - (12 Years & Under) - Large Bucket of Balls & Round of Mini Golf | $19.00 |
With any bucket purchase, customers may us the mat sections, grass tee area as well as the greenside bunker, fairway bunker, uneven lie mounds, rough practice, pitching & chipping areas and practice putting green.
| Range Card Value | Your Cost | Savings |
| --- | --- | --- |
| $90 | $75 | $15 Savings |
| $125 | $100 | $25 Savings |
| $190 | $150 | $40 Savings |
| $270 | $200 | $70 Savings |
*Range cards are for both range use and miniature golf. They never expire. Buy any range card amount and receive additional $$$ towards range use or mini golf!
Club Repair Services Are Available
New Grips: The staff at the Highlands is able to regrip clubs.  We have a small selection of grips in stock (ranging in price from $7-$9 each).  The cost to have a club regripped is...... the grip cost + $3/club.  In the event a customer brings their own grips in, the labor cost is $4/club.
Timing:  Occasionally, we can regrip a club while you wait.  However, it is best to plan to leave the club(s) for a couple days.
New Shafts & Other Repairs: For more extensive club repair, we use a trusted outside service technician who is able to do many things and advise of various club issues.  Customers may drop their clubs off at the Highlands and we will contact the repair technician to pick up the equipment.
Stay Up To Date With The Latest Updates and Event Info