The Highlands facility is the ideal place for juniors to learn and improve their golf game. The non-intimidating environment lets everyone feel comfortable while they practice and/or take lessons. Gretchen Scheuermann, an LPGA Class A Teaching Professional, is the Director of Instruction at the Highlands Golf Park and brings two decades of experience in teaching boys and girls of all ages and skill levels. A patient instructor, Gretchen makes sure that lessons are done in a fun, positive, highly motivating environment. It is not necessary for children to have their own golf clubs – clubs can be provided during the lessons, if necessary.
Interested in signing up for lessons or instruction?
Online Scheduling System – Coming Soon!!
To schedule something with Gretchen, please call the pro shop at 434-985-2765
Private Lessons
These are a one-on-one experience between the student and professional.  We offer Beginner, Intermediate & Advanced instruction. Instruction can be on the fundamentals of the full swing and short game or whatever area of your game needs improvement. Instruction is tailored to the needs of our junior students ages 2 -13 years old.  Lesson prices include the fee for range balls and any use of clubs.  See below for current pricing or call (434) 985-2765 for more information.
Three Individual 1/2 Hour Lessons
$95.00
Three Individual 1 Hour Lessons
$180.00
Six Individual 1/2 Hour Lessons
$190.00
Six Individual 1 Hour Lessons
$350.00
Group Lessons
Lessons for multiple juniors are available.  You may organize a group lesson with your friends or family members – up to 4 participants is best.  All lessons are one hour in length. Lesson prices include the fee for range balls and any use of clubs.
We can also design a custom golf school or series of classes for your group. Price and time structured accordingly.   
Group Lesson
Hourly Rate + $15 per person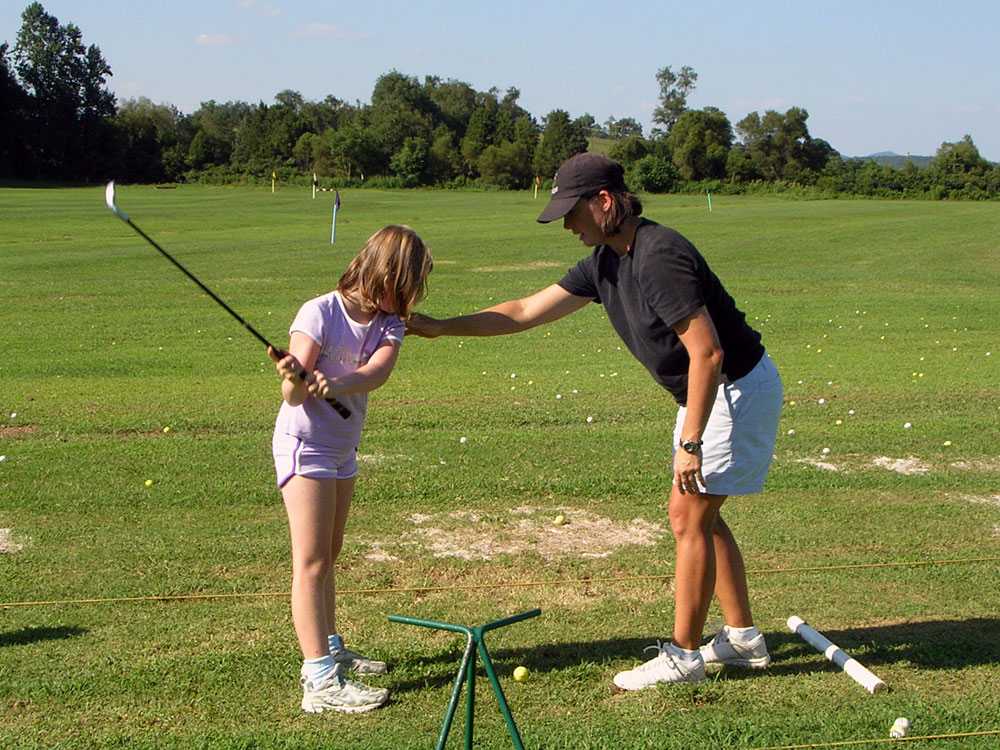 This is a fun way for kids to be introduced to golf. It is open to boys & girls (ages 3 & 4 yrs) and the class ratio is 5:1. Clubs are provided for use during the lessons.
2022 Sessions
Dates TBD
5:00 – 6:00pm
$65
Download the 2020 Toddler Golf Clinic Registration Form
The First Tee of the Virginia Blue Ridge Classes
The Highlands Golf Park is an official site for The First Tee of the Virginia Blue Ridge. "The First Tee mission is to impact the lives of young people by providing educational programs that build character, instill life-enhancing values, and promote healthy choices through the game of golf." Visit First Tee's website for current programs and registration.
2022 Spring Life Skills Classes
Dates TBD

PLAYer (ages 5-8):
PLAYer (ages 9+):
Equipment Provided & Financial Aid Available
Basic Intro to Golf Package
Are you a new golfer or feel like you need a more structured instruction for your game?  The New Golfer Package is designed to be a perfect mix of individual instruction and on course experience.  The package can be structure to best meet your needs.
New Golfer Package:  $299
4 – 60 min private lessons
1 – on course experience for 3-4 holes
Player Coaching Program
Designed for those golfers who want to improve their game and pursue so.  This program will help you meet specific goals through a coaching and playing program.
Coaching Program:  $399
3 – 60 minute private lessons
3 – 30 minute private lessons
1 – playing lessons (4 holes)
1 – playing lesson (9 holes)
Stay Up To Date With The Latest Updates and Event Info